When I became MD of Collins Construction in October 2019, my focus was on restructuring and redefining the business. Managing COVID-19 became an unexpected part of the plan.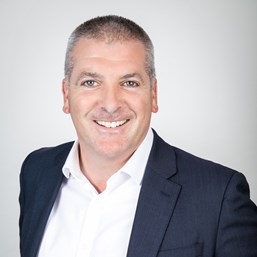 Jason Warren, Managing Director
We went some distance in the first five months; we changed the organisational structure to create a dynamic PD leadership team. The PDs now work alongside the pre-con team managing risk and developing a robust programme for each of their projects. They are wholly responsible for the financial outcome of their individual projects leading them from cradle to grave. The PDs are effectively the MDs of their own workstream and therefore business unit.
We also refocussed our pre-construction processes with criteria that reinforces our principles to be led first and foremost by the programme; we believe that in order to deliver a high-quality product, realistic timescales are key.
By mid-March the global pandemic had become a boardroom topic and I was in discussions with clients and peers about the potential impact this may have on our businesses. We were absorbing as much information as we could to see how other countries were doing. The threat at that time felt real.
Then on 23rd March, Boris gave his simple instruction, 'stay at home.' We discussed this at board level and unanimously agreed that we should close the business for an indefinite period in line with what we considered to be government wishes.
Clients asked us: "What are you going to do?" All I could say was, "We're going to work it out."
That was a tough period for construction. There was a distinct lack of guidance from government, clients were sympathetic but looking to their contractors for the answers we did not have. It's a huge decision to close 21 sites and turn off the tap and it is one of the most critical and difficult decisions I have ever made. I spoke to many others who battled with the same conflict. Safety takes precedence but livelihoods – which is what we mean when we talk about closures – are a significant part of the discussion. 
Fortunately for construction and manufacturing, Alok Sharma released a press statement on 31st March thanking these industries for continuing to work. This effectively gave us the green light to reconsider our position and we made the decision to recommence onsite activity, which we elected to do immediately after Easter.
A robust tracking and monitoring and health and safety programme coupled with a loyal and committed team have helped Collins get through the past 10 months. We also reviewed our expertise and project portfolio, like so many of our competitors have had to do. We realised that we needed to remind people of our long history of projects outside of commercial office space. That history has led to us currently delivering a 21 storey student accommodation block, a pharma R&D facility, a training facility and retail facility amongst our regular supply of commercial office refurb and fit out.  
There have been some challenging moments that required tough decisions; we chose not to implement furlough and instead moved to redundancies and then made some short term salary adjustments. We made these decisions to right-size the business for a period of potentially extremely difficult trading conditions ahead.
These were among the toughest decisions I have ever made; but getting the salaries back up to 100% by August and having a team that can successfully complete 12 projects throughout the COVID-19 period are recent successes that we are proud of.
I realised as a new MD there would be some sleepless nights – common generally in construction – but it is a humbling experience having 160 pairs of eyes looking at you and asking, 'What now?' Balancing what is best for individuals, for clients, for our supply chain and for the business means trying to do what is right and fair by everyone, but knowing it might not be the popular decision. There have been lessons learnt along the way but we maintain a strong team, have a robust pipeline, and are entering 2021 on a positive note, which gives me confidence that our overall strategy has been the right one.
But the pressure for construction is still on; despite the fact there seems to be plenty of opportunity in the pipeline, tender margins are being further squeezed, unfair contract terms and conditions are being accepted, and if this continues it will only cause long-term harm to the industry.
We have been keeping in close contact with our supply chain over the past few months and continue to support them where we can. But smaller contractors and subcontractors will face considerable challenges if they are to survive a cut-throat market in 2021. It will impact our credibility as a professional industry if we squeeze them as part of the process.
The past 10 months has shown the positive impact pulling together has on a business and on its people. We need to use this same mentality within our wider industry to weather the ongoing uncertainty.
Our restructure has set us in good stead for the future. COVID-19 was a challenge but one that we dealt with decisively and we now look to 2021 as a time to consolidate, strengthen, and focus on what we do best. I look forward to continuing to work with great people next year; people who we have supported and who have supported us, and I want to thank all those who have.
Jason