Collins is proud to announce the completion of the £19 million fit out to 14 floors of office space within Dashwood in the City of London. The Collins team fitted out a total of 120,000 sq ft to create three separate workspace solutions on behalf of its longstanding client, Landsec.
The team has been on-site since June 2020 delivering the programme of projects across 14 of the building's 17 floors. Our first appointment to the works was for the Cat A fit out to ten floors of office space to create Landsec's Blank Canvas workspace solution.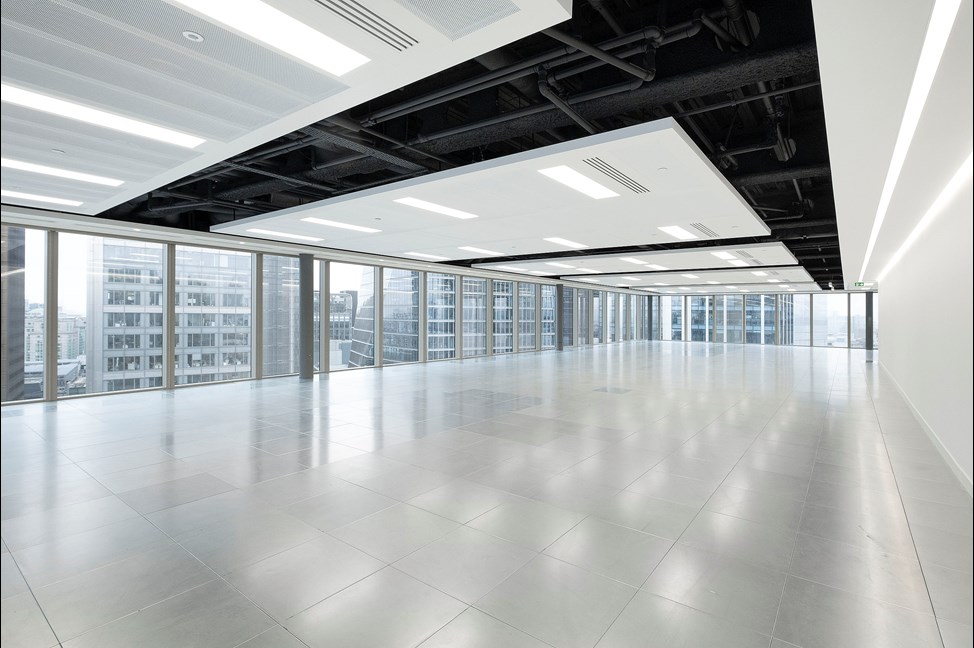 Collins was then appointed to deliver the fit out for Landsec's flexible office brand, Myo, across a further four floors of the building to create 35,000 ft2 of high-quality office space within the boutique tower. The £6 million Cat B fit out has bought to life Landsec's second location for their flexible office space, after the success of its launch at Myo 123 Victoria Street, also delivered by the Collins team.
The programme for the Myo Liverpool Street scheme included structural alterations to the building before the high end fit out to create a new reception area, meeting rooms, phone booths, break-out areas, kitchens and tea points, and customisable office space. Collins's one team approach to delivering complex structural refurbishment and high end fit out meant that the team were able to make the necessary structural changes with an eye on the final fit out process, and work dynamically to accommodate change quickly when needed.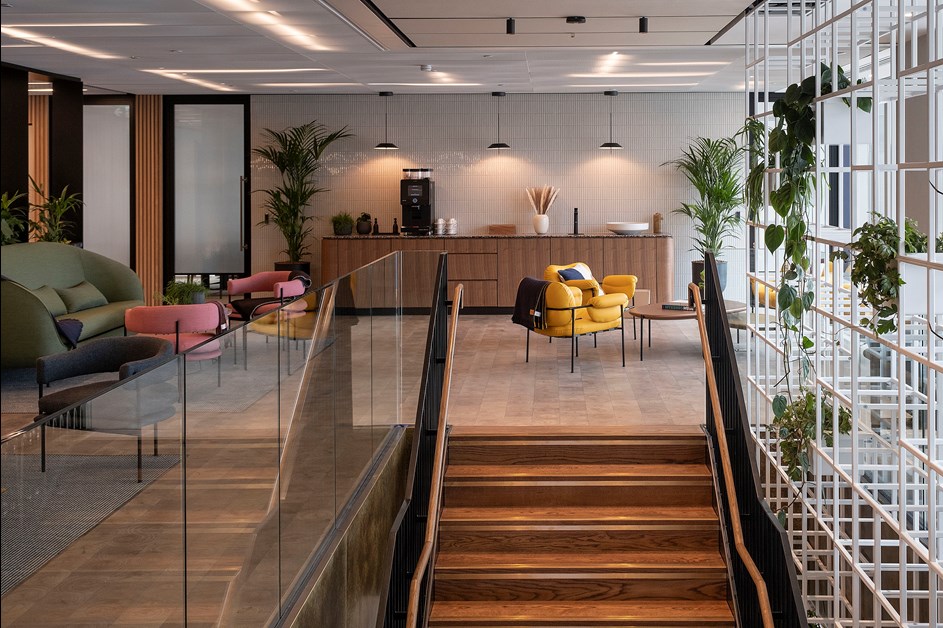 The staircase linking levels seven and eight opens up the interior to lots of natural light and is one of the main complex structural features of the space. A structural double-height staircase spatial grid was also installed to enhance the openness further.
The Myo Liverpool Street scheme has been pre-certified Gold WELL Building Standard accreditation due to each stage of the project having a focus on sustainability, health and wellbeing. This included selecting materials that do not emit Volatile Organic Compounds (VOCs) and undertaking rigorous end of construction testing for air quality to ensure a space that is free from pollutants and is healthy for the people who use it.
Take a look at our video walkthrough of Myo Liverpool Street here. 
The team was also appointed to deliver Landsec's Customised workspace solution to the second floor, a premium fit out that can be delivered to any of the Cat A floors upon request, and allows customers to choose from a range of layouts, furnishings and managed services.
Ryan Cleanthi, Divisional Director, said: "We started on-site in the middle of a very challenging year, but I am extremely proud of the team and what we have achieved together at Dashwood. Having an open and collaborative approach was key to the success of this project – bringing three workspace solutions together under one roof meant a real understanding of the building and its stakeholders was needed, together with a shared vision of Landsec's aspirations for the scheme. It's been a pleasure working together again to deliver these unique workspaces - Dashwood is a great example of what can be achieved through strong relationships and a flexible approach, especially during challenging times."