Collins Construction is providing free COVID-19 antibody testing to all employees.
According to the Corona Test Centre, Collins is the first UK construction company to offer onsite testing and this is the first time the centre has tested outside their clinic in Hammersmith.
Collins introduced the additional measure to provide further support to employees working onsite and at its Croydon head office. A discounted test is also being offered to sub-contractors across their 19 sites as well as the families of employees.
Each test will be carried out under strict guidelines by qualified healthcare professionals and will show whether employees have had the virus and developed an immune response.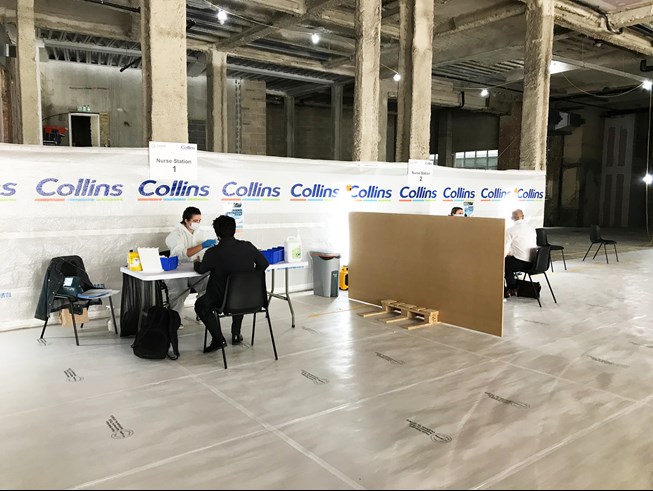 The testing took place on June 17 at 68 King William Street where Collins is refurbishing the 11-storey retail and office unit, previously occupied by House of Fraser, into a mixed use, office led building. Collins provided a second day of testing on June 18 for all staff at their head office.
This particular testing equipment is being widely used across the UK and Europe. After the blood test, samples are sent to laboratories for analysis and employees who take the test will receive their results via email within 24 hours. Nearly all 130 employees have opted to have the test as well as a further 120 sub-contractors who work with Collins and also employee's family members and friends.
The test certificate will provide staff with clear details of their immune system as well as identifying if they have previously had COVID-19. If tested positive for previous COVID-19, the result will also highlight what their current immune level is out of the maximum 200. It will allow Collins' clinical lead and head of health and safety to look at individual employee profiles – with their permission – and make additional provisions to protect those who might be at greater risk. The test is regarded to be especially beneficial to asymptomatic people who may unknowingly be carrying the virus.
 ​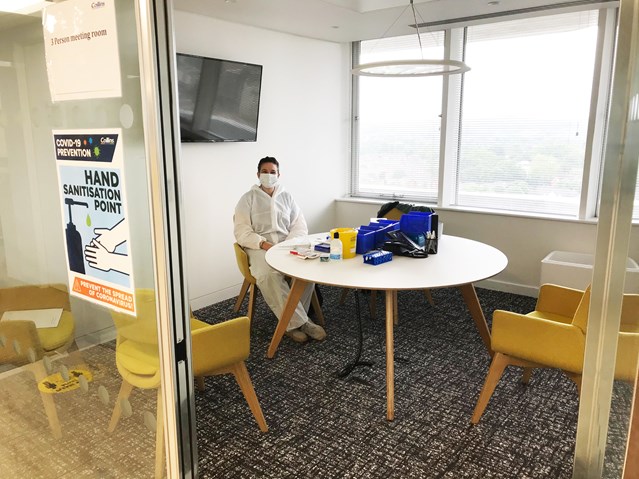 The decision to provide free testing comes on the back of a series of safety measures that Collins has implemented across all sites over the past 12 weeks. These have included clear social-distancing guidelines, site-wide risk assessments and buddy systems to enable the same people work together on a daily and regular basis.
Tony Turner, Director of SHEQ at Collins Construction, said: "The health, safety and wellbeing of the Collins workforce is our priority and these tests are an effective addition to the measures we have already put in place. These tests will offer employees greater peace of mind should they test positive for carrying antibodies and will enable Collins to make further provisions to protect those who might be at risk."