Collins is working with The Pollen Estate to deliver two high-quality office schemes in the heart of Mayfair. Both schemes involve complex, structural alterations to extend and enhance the existing period buildings for future office occupiers.
Collins was originally appointed to the refurbishment of 33 Cork Street in August 2020 and has since been appointed to refurbish 3 Clifford Street.
The team is working alongside Buckley Gray Yeoman and Hanover Cube on both schemes to restore the character of the period office buildings and provide future occupiers with premium office space in one of London's most desired areas.
33 Cork Street
At 33 Cork Street, works include the improvement and upgrade of the office and retail accommodation across the seven-storey building through a complete internal reconfiguration that will increase the lettable floor area. After 12 months onsite, the team has completed most of the structural works, including the demolition of the rear façade and roof, to allow for the construction of a new rear extension. Collins will now begin construction of the new roof structure to increase the footprint of the fifth floor and create a new external roof plant area.
A significant challenge of the project has been securing the stability of the building during the removal of the rear façade and roof. In response, Collins designed and installed extensive structural temporary works to make the building stable prior to the demolition works. A temporary roof has also been installed to ensure the building is watertight throughout construction.
Following the structural alterations, the office space on levels 1 – 5 will be refurbished to Cat A specification. Collins will then deliver two new retail units to shell and core across the ground and lower ground floors, as well as creating a welcoming new reception area on the ground floor.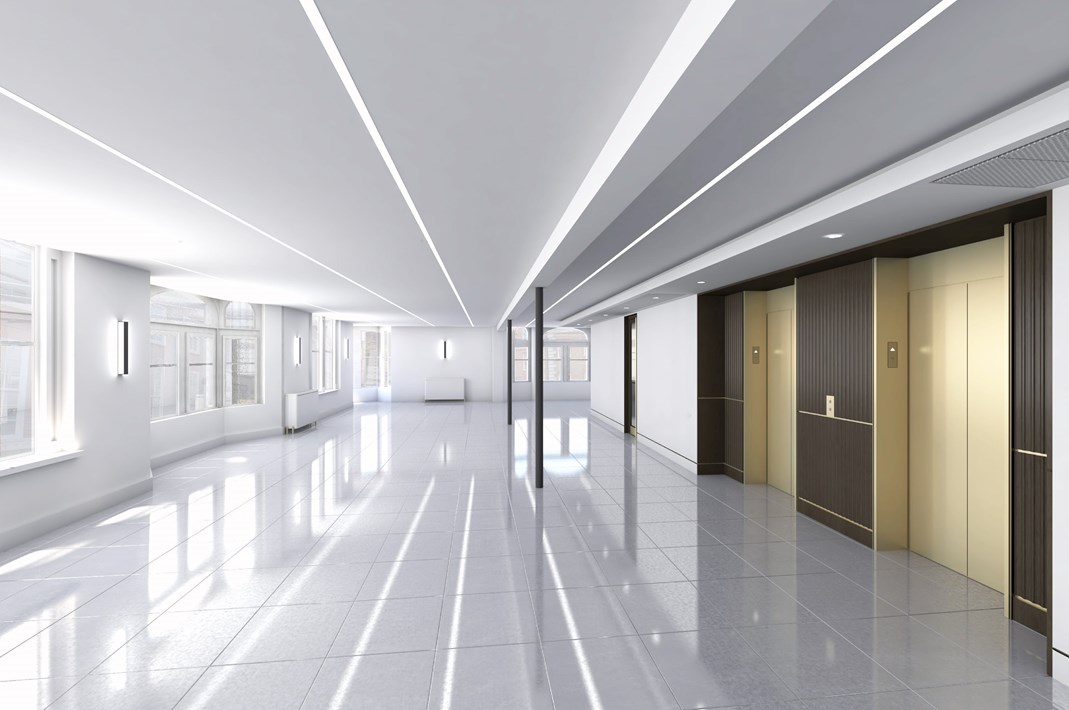 3 Clifford Street
The refurbishment of 3 Clifford Street involves similar extensive structural alterations to increase the floor area and create a larger, more open plan office space throughout.
The existing building comprises four storeys of office space as well as ground and basement retail / café levels. The refurbishment will involve the removal all internal partitions and chimneys within the upper floors to create modern, high-quality office space. The rear lightwell will be infilled to create a rear extension and the WC core relocated within it to provide additional net internal office space. The Collins team will then face the new rear extension in white glazed bricks to match the existing material of the rear elevation.
Other structural works include the removal of internal partitions within the café and retail spaces and the building of an internal link between the ground floor and basement. Collins will replace all mechanical and electrical systems throughout the building to improve the overall energy efficiency of the building.
With both buildings being located within the Mayfair Conservation Area, the team will carry out non-intrusive repairs and replacements to both facades to retain their historic Mayfair character.
Bill Bowers, Divisional Director, said: "Transforming buildings to restore and celebrate their heritage is what makes refurbishments like these so rewarding and worthwhile. Changing a building's structure from its original status through a series of complex, technical modifications is challenging, but it is these complex refurbishments that turn historic buildings into assets of great value, for our client and the City."