Collins is on-site delivering the £14.5 million refurbishment of 3 St Helen's Place on behalf of The Leathersellers' Company and has just reached a significant milestone in the project with the completion of the structural works. This marks a huge step in the project – the team is one step closer to completing the transformation of the building to create a new 30,000 ft2 high-end office development.
With the extensive structural works now complete, the delivery team celebrated with a 'topping out' ceremony on-site to celebrate the team's achievement in reaching the milestone. The Leathersellers' Chairman poured the final piece of concrete on the roof, followed by speeches and a toast to the team on the newly constructed sixth floor.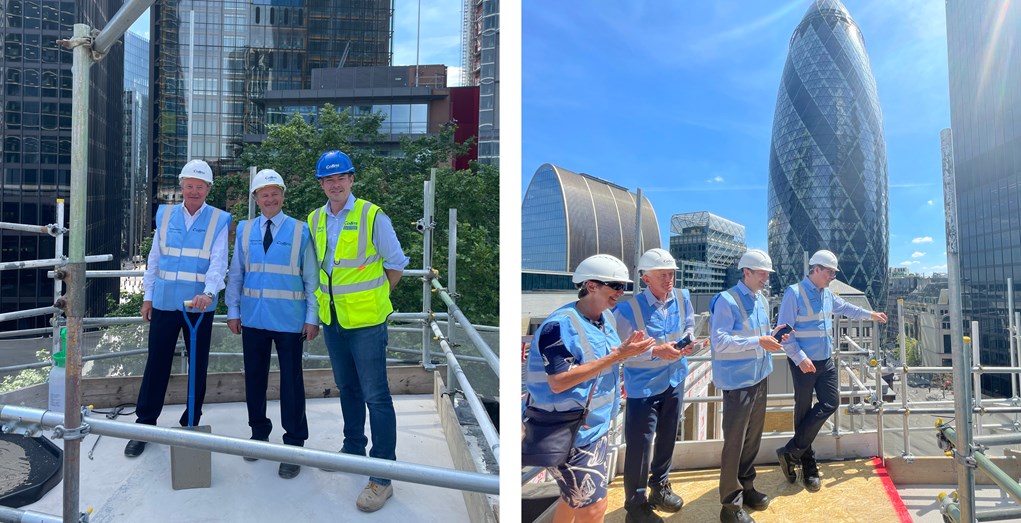 The structural work included increasing the lettable floor area from circa 20,000 ft2 to 30,000 ft2, by demolishing the rear façade, roof, and fifth floor followed by the construction of a new rear extension, level five, and the addition of a new sixth floor.
To date the team has installed almost 300 tonnes of structural steel, 77,000 bricks, and removed almost 10,000 tonnes of waste, which has all successfully been diverted from landfill.
The structural works have provided many challenges including the discovery of Medieval burials and structures under the building during excavation works. Upon their discovery, the team worked with MOLA to facilitate a nine-week archaeological dig to unearth the previously undiscovered layers of history.
The new rear extension has allowed for the re-location of the existing stair core to house a new, magnificent 10-storey helical staircase that links all floors within the building.


The team has also upgraded the main entrance of the building by removing the ground floor slabs and steel beams so the floor can be lowered by one and a half metres. A new mezzanine level and link bridge has been installed to create a striking, enlarged reception area in keeping with the prestige of St Helen's Place.
The team will now begin the final stages of the fit out, to create a flexible and sustainable workspace with market leading wellbeing appeal.
A huge well done and thank you to everyone involved in helping us reach this milestone. The Collins team is looking forward to delivering the final stages of the project alongside: The Leathersellers Company, Buckley Gray Yeoman, Gardiner & Theobald, Fairhurst, DP9, Heyne Tillett Steel, GIA, Scotch Partners, and Twin and Earth Limited.
Matthew Lawrence, Chief Executive at The Leathersellers' Company, said: "The Leathersellers' Company took the decision to take on the role of developer, assuming the construction and letting risk in redeveloping 3 St Helen's Place on its estate in the heart of the City of London.
Working with Collins, The Leathersellers' Company is bringing new life back to this historic building, maximising its potential. Collins is successfully managing a complicated project with logistics constraints, uninterrupted despite the pandemic. The building will be finished to a high standard later this year and the Company looks forward to welcoming new tenants to these exceptional new offices."
Bill Bowers, Divisional Director at Collins Construction, said: "It is a great achievement to be 'topping out' at 3 St Helen's Place this week - the team has worked incredibly hard to get the project to this milestone. Despite the challenges we have all faced with the site being in a conservation area and within a heritage rich location, I am incredibly proud to have seen such collaborative working between all parties to ensure the client's aspirations are achieved, and without a compromise on quality. We're looking forward to working with the delivery team as we begin the final stages of the project."