Collins Construction wants to develop a pure programme; one that is as close to actuality as possible. This will be a challenge, especially if we also want to retain our core value of flexibility and not become bogged down in process.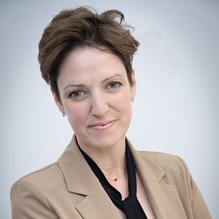 Karen Rosvall, Principal Design Manager
I started as Principal Design Manager at Collins at the same time the CLC announced its concern over materials shortages. I could consider this an unwelcome first challenge in my new position. But the worsening of product availability poses few problems for contractors if the correct due diligence is carried out at tender stage.
We have all experienced the challenge of a limited or lack of availability of materials for projects that have been within the client's early design process for a long time. When the documents finally arrive with the Design Management (DM) team, the materials either do not exist or cannot be easily sourced. Through this experience, a good DM will have learnt to build the right relationships with suppliers to ensure they are always up to date with current market conditions in order to advise on a deliverable programme with accurate information. Making the supply chain a key relationship and keeping in regular contact – even outside of a project – is invaluable.
My biggest challenge is in changing the way wider Collins works to create a seamless and collaborative process with the DM team, one that interrogates both the Structural and Architectural design of a project from the very beginning. In its previous form, Collins ran a design team like many others. With the recent appointment of two structural engineers, the company has now created a holistic model that will generate knowledge-share between DM and sites from the outset to ensure we develop a considered, transparent and demonstrable critical path for any project.
All refurb contractors will have experienced a client who announces, 'there's not much structural,' and appoints a structural engineer to explore the primary structure only, ignoring the mass of secondary structure that lies hidden and labelled as CDP. This secondary structure is often missed as early-day discussions focus on design only, yet it is these structural connectors that hold the final design in place. We know it is traditional for the contractor to identify these issues once on site but the aim for Collins in developing a 'pure programme' is to make sure everything is accounted for during tender stage, inside and outside of the base design parameters.
This means analysing and preparing for, and so avoiding, scope gaps that can otherwise cost tens of thousands to rectify on a single project. We are transparent about who benefits from this model; our approach in developing a robust programme is of course to protect Collins's bottom line but the benefits are far reaching and add value for the client and the wider design team.
As Guy McCoig-Lees outlined in his blog Expose the risk of uncertainty, the client's ambitions are rarely met when programmes go wrong. When the programme is tight and the team works to one achievable ambition then projects run smoothly; The mood on site is positive, motivation is high and the programme journey – and the journey for the client – is enjoyable. It is this that creates hugely successful outcomes.
This design management model of combined structural and architectural design also supports the Architect because we can identify any structural elements that have not been accounted for in their design. This structural interrogation at the tender and pre-con stages enables us to spot any anomalies early on and show the client how we can create an all-encompassing design led solution, engaging with the entire design team, not just the lead designer.
Our DM team will be the professional interface between all subcontractors and designers so that all elements are delivered, completed and coordinated. It is our role to help safeguard the programme for all parties.
I joined Collins because its core value of flexibility means it places additional emphasis on accommodating the client's requests and anticipating and preparing for change along the way as part of its programme. What I need to ensure is that my team and this new way of working across the whole programme from tender stage through to completion does not represent additional processes that slow the site team down and create unnecessary paperwork.
We will be installing process-lite systems of working. Once we interrogate the project at tender stage and squeeze out all potential risks, we will then implement a seamless programme of work packages with our subcontractors. This means site team and DM team will be closer than ever before at Collins. It takes time to change traditional working practices, but Collins is evolving and this is all part of the process.