After five years away, I'm glad to be home, leading a division, working on some of the company's largest projects, and to build on the company's customer experience delivery.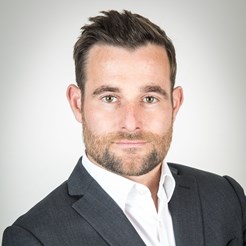 Scott Bannon, Divisional Director
Returning to a workplace is always daunting. Workplaces change and Collins has certainly undergone an overhaul since I left five years ago. Under the new leadership of Jason Warren there is an increased focus on our delivery of seamless structural refurbishment and fit out programmes and getting the programme just right. Our combined expertise in cut and carve as well as achieving a high-quality finish on a project is what we do best. The Divisional Directors now have a rigorous internal evaluation programme to work to make sure the programmes we develop are the one that will be delivered, and that we provide the client with a journey they will enjoy.
Collins is much more professional in its approach, yet it still carries the morals and grounding of a family business that places people – internally and externally – at the centre. Internally, I have returned to a workplace that champions ambition and supports initiative, at all levels, and encourages people to give their absolute best.
Externally, we have always been non-contractual and collaborative, and this approach complements the co-working sector, especially, where flexibility is the foundation of the client approach. Not only in the spaces they are developing but in the way these clients work as well.
Increasingly, we are using data or 'business intelligence' to better understand the needs of our clients, not just at the beginning and end of a journey but across the whole programme. Having visibility of our clients' pain points, alongside what is working well, are key to the success of the project.
I have always been personally interested in the customer experience – engrained from my early days at Collins – yet, in the often-siloed world of construction it can suffer badly when issues arise. Our goal is to make the customer journey as integral to the programme as the delivery and that means collaboration and engagement with all partners on site.
The use of client insights and intelligence is not new for many industries and the phrase customer experience is an established one but it's not so common for construction and refurbishment. Traditionally, clients were happy to leave us to get on with the build. Today, they are more hands on, the design programme and approach more collaborative – often we are designing as we're making structural adaptions. This takes the client relationship to a level of true collaboration and is not something that every company can do.
But one of Collins' great successes is its relationships with clients; over 90% of our projects are with clients or design teams that we have a long-term relationship with, many well in excess of 10 years. The process of checking in – at every level – is embedded into our DNA.
The customer journey will be a huge focus for Collins in 2022, with each project, whether £1m or £35m having its own customer engagement plan. As projects increase in value, the network of touchpoints become more complex. Collins is exploring a more intelligent and structured approach using technology and data capture to manage these networks so we can react much quicker to ever-changing client needs.
Aligning on client priorities, risks and key drivers during our project launch, then ensuring these are tracked systematically throughout the programme along with client feedback, are becoming integral parts of our programme.
This is not about replacing great relationships with a faceless data led approach. If there is one mode of communication and contact that Collins prefers, it is face-to-face. Many of our clients and project partners are good friends. What technology and data will do, is help us learn more about our clients throughout the process so we can respond better. And this will only improve the customer experience they receive.