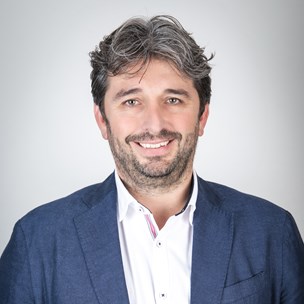 Duncan Redman, Project Director
Cyclists are becoming the new commuters and they need a place that is convenient, stylish and well-appointed to use after a cycle-commute to, and from, the office. Through clever refurbishment of space an asset can acquire increased value by offering dedicated centres of wellbeing.
Over the years, shower blocks and bike parks have become a legal requirement and standard within refurbished and new buildings to cater for the small but growing number of cyclists.
The London Plan already includes proposals to transform roads and encourage more cycling across London. The recent lockdown has caused a further boom in cyclist numbers and now the Government has promised money for new pop-up bike lanes and cycle-only corridors across the UK.
These incentives aim to increase the number of cyclists and this in turn, will have an impact on workplace design. Surely it is time to give greater consideration for how we design and develop these spaces?
They are usually referred to as 'commuter blocks' containing showers, lockers and space for changing. What we should be creating are dedicated 'commuter centres' where getting ready for work, at work, is a far more user-friendly and pleasurable experience.
New builds have the advantage of 'blank-canvas' development with a well-designed space allocated for bikes, washing and changing as part of the plan. For refurbs, it is the existing basement and ground floor areas that are usually allocated for bike facilities and these are often dank, dark or used for the plant, parking, or storage.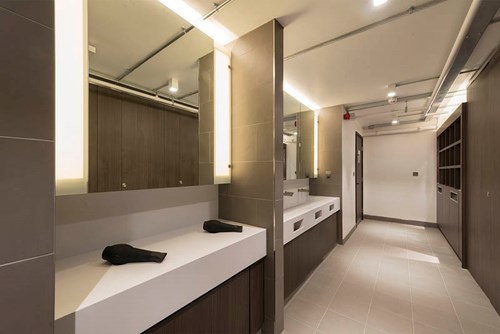 Commuter centre refurbishment at 80-100 Victoria Street, Landsec
A creative client and design vision alongside the technical expertise of delivery can turn these bleak areas into spaces that are engaging, welcoming and offer a range of facilities.
As a keen commuter-cyclist, I actually think what is currently offered, works. But keen cyclists are a hardy bunch and a lick of paint, safe space to park our bikes, clean showers and locker is all we need. We're happy to cycle in, grab a shower and then get to our desks.
An increase in numbers is likely to mean more diversity within the cycling community and this means catering for different needs within these spaces.
Offering dedicated, welcoming commuter centres that don't just provide for the hard-core commuter cyclist but for the newbie cyclist, runner-commuter, or lunchtime runner, is a way to better integrate space into the workplace package.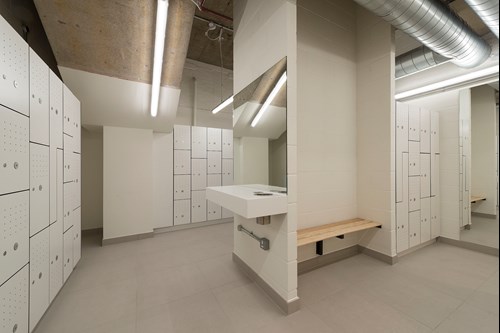 International House, located in the heart of St Katherine Docks, Global Investment Firm
However, refurb does pose it's own set of challenges. Many basements have restricted ceiling heights and these need changing to increase space. Damp can also be a problem and these require tanking solutions to make the space watertight. 
With no natural illumination, lighting design and user wayfinding are key to creating an environment that feels welcoming and safe. By collaborating with a creative design team, smart refurbishment can create an intimate environment that removes any sense of being stuck in the basement or back room.
With so many businesses offering cycle to work schemes – and Collins is one of them – we need to think more about how to encourage employees to take up the offer, for their health and wellbeing and for our environment. One of the incentives is through smart refurb and fit out to create spaces that people can enjoy.