I am known for being positive at work and as someone who actively seeks out opportunities. Over the past 10 months, I have needed to be more focused and resilient to maintain this perspective, especially as we have had a challenging start to 2021.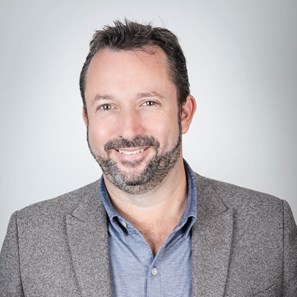 Christian Pakes, Pre-Construction Director
However, only this week, Kwasi Kwarteng gave our industry a well-received nod by articulating how valuable construction is to wider society and declaring our role as crucial in the UK's recovery. Last week it was reported a Ukrainian energy company will pay almost £110 per sq. ft for 7,000 sq. ft of office space in the Leadenhall Building, a record rent for the city of London. It's not all bad news.
Within Collins Construction, we believe we have come out of the last few months changed for the better. The ongoing pressure on our site teams has made us review how we do things with a much greater focus on procurement, sequencing, and planning. We have been stretched to perform to our very best and had to re-examine risks and challenges. We now need to further question our day-to-day activities, analyse consequences and outcomes, and more than ever apply innovative solutions to problem solving.
As a former M&E consultant, I believe this is what the construction industry needed – to clarify, not COVID-19 – but the opportunity to innovate borne out of necessity, not innovation for innovation sake. Historically, innovation has made construction uncomfortable, it's an industry that can be resistant to change. Traditional processes do work, so this has eliminated the desire to try doing things differently.
Ongoing site challenges created by social distancing guidelines and potentially delayed resources, has forced us to develop new processes and show our clients how we can change rapidly. This is enabling us to create greater efficiency and innovate to overcome problems, and our ideas are being well received.
Eight months ago, some of our best site managers would avoid a video-conference call. Today, new high quality video conferencing equipment is being implemented in both our office and site meeting rooms and our teams are pitching and winning projects online. Asking ourselves what we can do to help our clients and maintain the strong pipeline that we have for 2021, Collins has been quick to learn how to use new technology to keep us on the front foot.
The property industry has always responded to challenge through innovation and diversification. In March, there were those who predicted the death of the office. Today, we see clients responding quickly to what is simply a change in working preferences. New collaborative work centres are being created outside the city and while there will always be those who choose to work in Central London, clients are also exploring how to best re-purpose regional high streets and other innovative spaces. We're now working with occupier clients to integrate co-working into retail and high street environments. It is our clients' response to the crisis and the development of new sectors that encourages Collins to re-examine its own cross-sector expertise, and show how we can support refurbishments outside of the typical office.
Our clients are also making strategic decisions about the role of their Central London offices; a Front of House for corporates; a hub for collaboration, an HQ for senior leaders to convene; a safe space where employees can get away from home-working – I have two young children, WFH is not all it is cracked up to be.
The requests for Cat B fit out are slowly but surely increasing as confidence in a return to the office builds within the markets. With a significant amount of high-quality building stock, a need and opportunity to make workplace changes, and a limited appetite for new build, the complex structural refurbishment sector is looking to have a prosperous year. We are excited about this.
I've talked to many clients and colleagues and it seems people want to get back to their desks, whether it is in town or a regional outpost. This crisis is nothing like the Great Financial Crash of 2007 when the money simply disappeared, this time it's about our ability to maintain production. We still have the motivation and the means and like an elastic band being stretched under the confines of Covid, we shall, as soon as we're given the go-ahead, spring back to doing what we do best.
It isn't easy to be positive in times of adversity but rather than asking others what they are going to do to improve things, we all need to look at what we can do to help ourselves and those around us. Collins fosters an environment of accountability and responsibility, and so as individuals we aim to show what we can bring to the table.
We know it will make the business stronger and ourselves more resilient if we use this time to look for opportunities. There's a lot to look forward to in 2021 if you embrace it with a positive approach to the changes taking place.