Located in the heart of the City's financial district, the Gherkin was designed by Foster & Partners and opened to the public in 2004. As one of London's most iconic buildings, The Gherkin, or 30 St Mary Axe to give the structure its official name, is instantly recognisable in the city skyline. It stands at 180 metres high, incorporating 41 levels, including state-of-the-art office space and a piazza with shops and restaurants. Inside, The Gherkin is a light and airy place to work, with a unique circular design that lends itself to collaboration.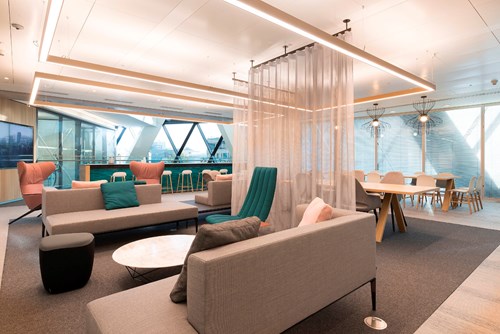 Collins has proudly had a presence of working within the Gherkin for circa 14 years; we have now worked on multiple projects across 25 floors for the previous landlord, Swiss Re, Allied World, ION and Kirkland & Ellis. We have just been appointed on our 26th job in The Gherkin, on behalf of Kirkland & Ellis, which will involve the office space strip out and fit out to Level 16, which is the largest floor at 1,816 square meters.
Over the past couple of years, we have completed several fit out projects over many different levels of the Gherkin. These works have consisted of meeting suites, receptions, cellurised offices, staff break out facilities, comms rooms and open plan offices.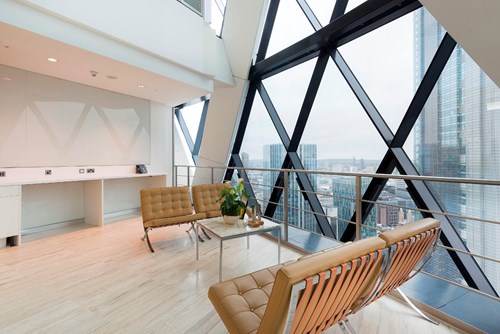 Due to its unique shape, 30 St Mary Axe presents a series of complex challenges. The building changes form and orientation floor to floor, and no two floors are precisely the same shape or size. With standard office furniture, partitions and ceilings simply not designed to suit circular buildings, any solution would need to be carefully designed and built to work within this unique building.
Noise control in The Gherkin is also a challenge due to the spiralling open atriums that are part of the building's original energy saving system, which encourages the flow of natural ventilation. This requires us to work closely with tenants and the landlord to install temporary acoustic hoardings, and to plan works for out of hours, particularly in sensitive areas to ensure we cause as little disruption as possible.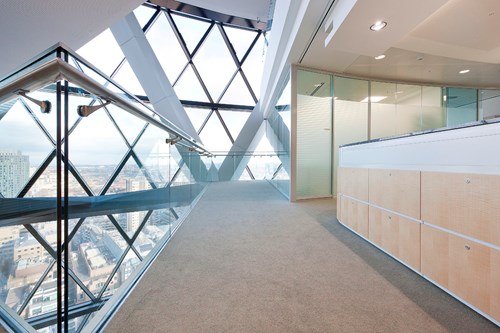 We relish the opportunity to overcome such challenges. Our expertise in managing all aspects of working in this high profile and challenging building have ensured that our clients have confidence in our management team to deliver high quality finishes. We do this with minimum disruption to their day-to-day operations as well as other tenants in the building. We have built long standing relationships with the landlord and its occupiers – we pride ourselves on repeat client business and strong relationships.
Related projects: