We're excited to announce that our project for one of the World's most well-known brands, WD-40 Company Ltd, has been shortlisted for a Regional BCO Award in the 'Fit out of workplace' category. 
Working with Burtt-Jones & Brewer, we transformed the empty building into a place defined by innovation and functionality. We were tasked with completing the Cat B fit out to each of the three floors of the building, to create a cohesive work environment for their new European Headquarters.
Employee wellbeing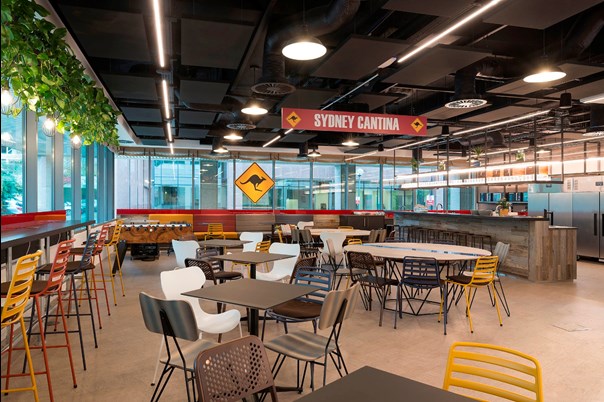 Employee wellbeing is at the heart of WD-40's ethos and formed a key element in our project brief. The organisation insisted that we create a comfortable, positive workspace to support a healthy work-life balance and give individuals a choice of environments to work and relax in. This included height adjustable desks throughout, secluded booths and upholstered seating benches, enclosed meeting room/office spaces and open collaborative tables.
The core design feature of the large central helical staircase encourages physical movement and exercise in the most simple and innocuous way, as well as an onsite gym. Shower facilities have been added to the building to support this and for those who cycle or run to work.
A workplace to encourage collaboration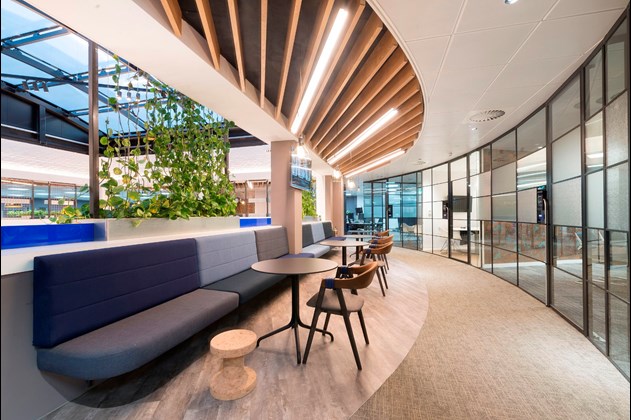 The base build was a square donut consisting of three floors of workspace infilled with an open, internal atrium space. Our first challenge was to re-organise the building structurally to transform the space to encourage collaboration. We installed a glazed roof to enclose the atrium which now houses a helical staircase to link all three floors.
The ground floor is inset beneath the upper two, forming a colonnaded walkway around the exterior. The upper two floors, which have better views and light, have been given over to the principal office workspace, with desks, meeting rooms and a variety of open and cellular work settings. The ground floor houses the main staff canteen and breakout space which feeds into the reception and atrium as well as a gym, showers and changing space, a research and development laboratory and storage/packaging studio areas.
Sustainability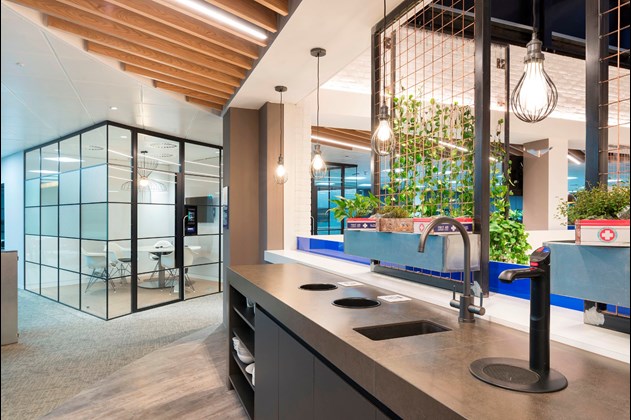 Carefully selected materials, methods of construction, finishes and products were used to last a projected 25 years.
The project achieved BREEAM Certification Very Good.
Air source heat pumps service the building. Relying upon electricity is better as a primary source, due to de-carbonisation of the grid. The building services were commissioned to create balanced systems to ensure efficient and optimal running to reduce energy wastage.
Adding a barrel-vaulted glass roof to the previously open courtyard reduces the exposed building fabric and prevents heat loss.
The internal courtyard and main entrance space which was flooded with lights was painted white to increasing the light reflectance and enhance the distribution of natural light.
Lighting is energy efficient and all white goods are A-rated.
Another of our projects, Devon House, has also been shortlisted for a BCO Award. Check out more about the project here.