Collins is proud to announce the completion of 33 Cork Street, a seven-storey period office building in Mayfair, that has been extensively remodelled to create a high-quality, mixed-use scheme comprising office and retail space.
Working alongside Buckley Gray Yeoman and Hanover Cube to restore the character and heritage of the building, the team reconfigured the internal spaces to increase the lettable floor area to circa 16,000 sq ft and adapt for modern working needs.
This was achieved through a series of challenging building alterations, including the demolition of the rear façade and roof to allow for the construction of a new rear extension. The new stair and lift cores have been relocated to the extension to improve access to the office areas, and the construction of a new roof structure allowed the team to increase the footprint of the fifth floor, create a new external roof area and relocate the plant.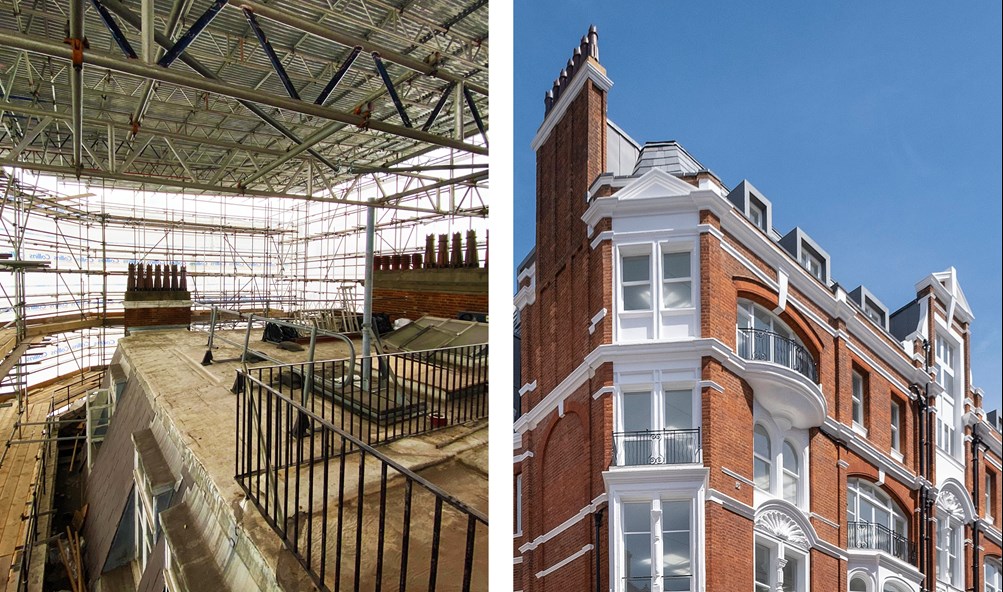 Before and after of 33 Cork Street
A significant challenge of the project was securing the stability of the building during the removal of the rear façade and roof. In response, Collins designed and installed extensive structural temporary works to make the building stable prior to the demolition works.
Following the structural alterations, the team fit out the office space on levels 1 – 5 to Cat A specification with bespoke lighting, new raised access flooring, and new toilet facilities. Specialist joinery and lift architraves were also installed, following the design theme from the new ground floor reception to the upper floors. The team installed new energy efficient mechanical and electrical elements throughout, including access control, CCTV, and a new lift system that can be controlled via a mobile app.
Ground floor reception and lifts 
The project achieved WiredScore Platinum – the highest-awarded mark showing the building meets exceptional standards of quality for its wired infrastructure, resilience, and wireless network. The project was initially targeting BREEAM Very Good but the team managed to achieve an assessed score of Excellent which is awaiting certification.
The team also delivered two new retail units to shell and core across the ground and lower ground floors, as well as creating a striking new reception area for the office floors on the ground floor, with new basement shower and changing facilities. Built to a very high standard, the reception features bespoke timber flooring and wall panelling, and a marble and leather reception desk, using the design style and materials from the original building.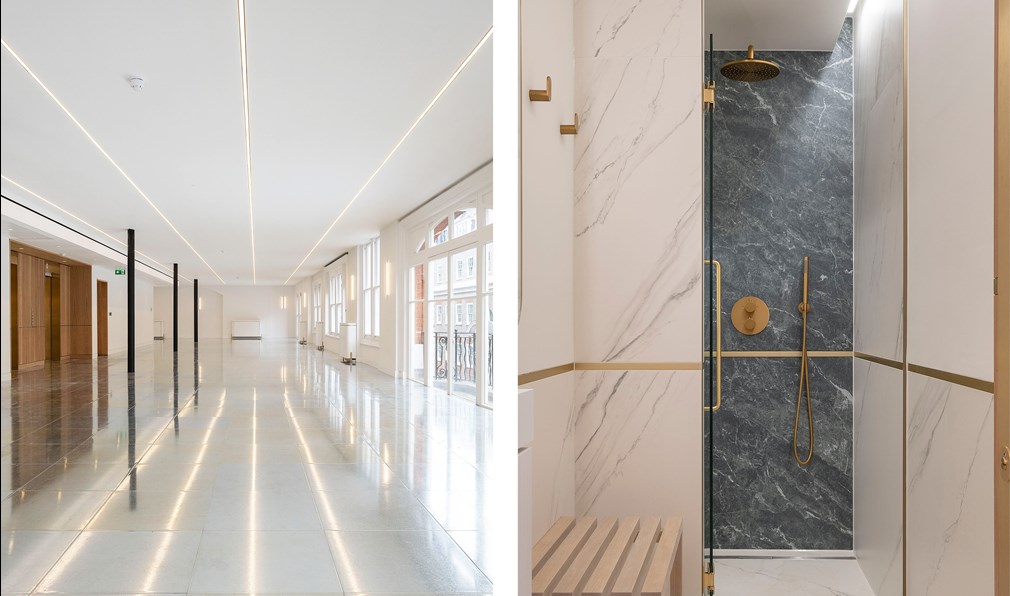 Office space and shower facilities 

The full delivery team included: Hanover Cube, Buckley Gray Yeoman, Davies Maguire, KJ Tait Engineers, and Gardiner & Theobald.
Bill Bowers, Divisional Director at Collins Construction, said: "This is our second project for The Pollen Estate, having recently completed a similar restoration project at 3 Clifford Street. Both projects involved complex, structural alterations to extend and enhance the buildings and provide future occupiers with premium office space in one of London's most desired areas.
A team with the right refurbishment expertise and ambition has been key to delivering both of these challenging schemes. The result is a high quality, repurposed, sustainable, and modern building whose preserved history enhances the building's desirability for London office occupiers."