Project

14-16 and 19 Bruton Place

Project Manager

Rougemont

Architect

White Red Architects and dla architecture

QS

Exigere

Services Consultant

Taylor Project Services

Structural Engineers

Webb Yates Engineers
Alex Rich, Project Associate at Berkeley Estate Asset Management (BEAM):
We consider ourselves custodians of the Berkeley Square Estate and have a long-term view for the development of its assets. We are acutely aware of its history and want to preserve this, so the buildings continue to be a longstanding and established part of Mayfair, with that same character and appeal that makes them unique.
This is why we take the first opportunity to retain where possible and structurally modify where it makes sense. This is the most sustainable and effective way of protecting what exists and reducing negative impact on the assets during the development process.
Bruton Place is at the heart of the Berkeley Square Estate. We actively try to embrace its character and appeal through our refurbishment work and tenant mix. Historically, the area served as stables and staff accommodation for the grand townhouses on Bruton Street; today, that tucked away location creates a unique charm that appeals to occupiers who want somewhere slightly more discrete that feels more akin to a 'home just off the square.'
Developing 14-16 and 19 Bruton Place simultaneously has been interesting. We had a development strategy, to enhance the buildings' unique characteristics and create contemporary workspaces with only the highest quality materials, but the two are very different buildings and required their own, bespoke, approach. We learnt a lot from each project and shared that knowledge as we worked across them, at the same time navigating the individual challenges each one posed.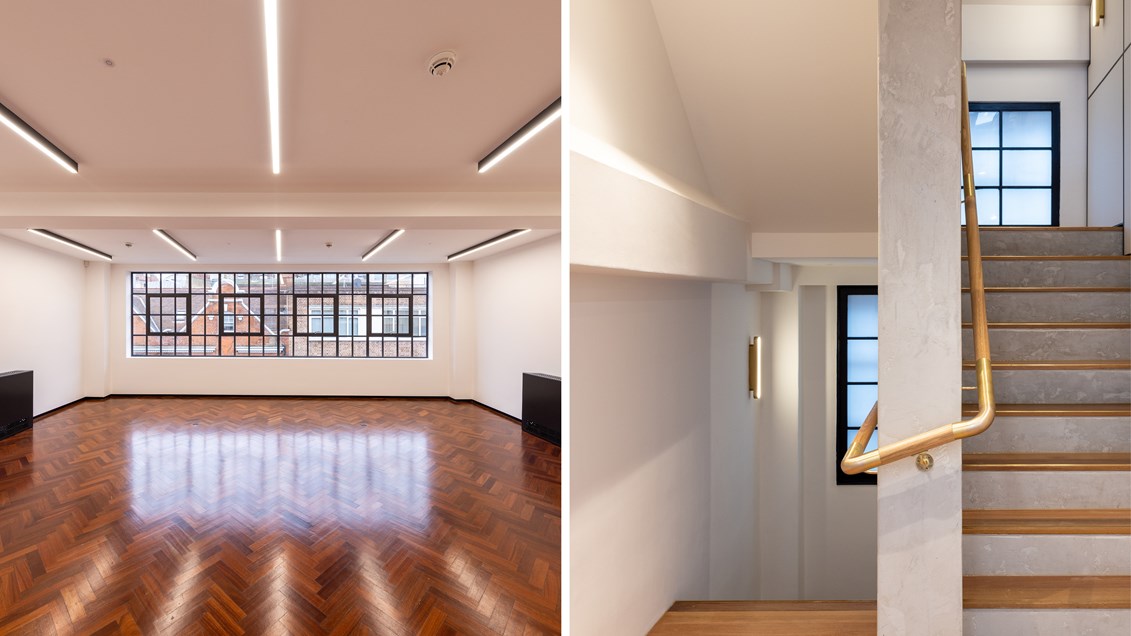 Restored original parquet floor and opened up stair core at 19 Bruton Place
19 is the older of the two and we intended to do as little as possible to the structure, but once we started to look under the skin we found we could carve out space across the building to make it more inviting and functional without losing its character.
Originally, the building had two small and segregated floor spaces; by opening up the stair core and linking these, we have created a continuation across the building as well as more spacious floors with bespoke Cat A finishes. The detail and finishes throughout provide a high-quality springboard for our occupiers to employ their own designs and identity.
There is a certain amount of excitement attached to opening up a building, and we always go in with an inquisitive nature as this presents opportunity. We find weird and wonderful histories that have remained invisible for years but reveal a building's authenticity; these are immediately special to us because they are so unique. At 19 Bruton place for example, we discovered an impeccable parquet floor that dated back to the original construction, which we then sensitively restored.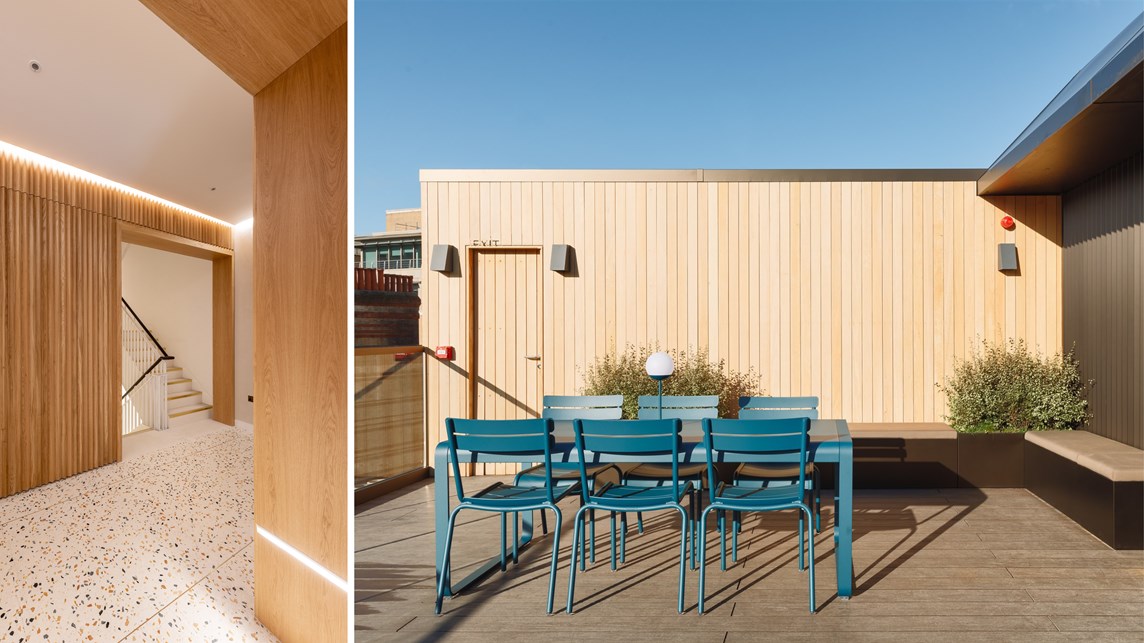 Luxurious Terrazzo and European Oak entrance and roof terrace at 14-16 Bruton Place
We started on 14-16 Bruton Place knowing it had strong basics in terms of good floor space and proportions. It's not an old building so the final look and feel is very different to 19; it has more of a contemporary elegance as opposed to industrial heritage styling.
14-16 provided the opportunity to introduce fantastic amenity space and facilities in line with what the modern, high-end occupier wants, such as an impressive roof terrace overlooking the whole of Bruton Place and with a view to the Square. And as with number 19, the finishes need to match the location.
The Terrazzo, the European Oak; our occupiers are interested in the origin of the materials so we make sure we understand the journey and share it with them, having decided what finishes we want well before we reach construction. We like to be in the detail because we know the expectations and standards of our occupiers - this level of engagement and detail is apparent in the developed end product.
Our passion for Bruton Place is in repositioning and enhancing what is already there. It's about bringing these buildings up to modern spec and embracing their character while creating new potential as sustainable, contemporary spaces for Mayfair occupiers for the next hundred years and beyond.
Ryan Cleanthi, Divisional Director at Collins Construction:
14-16 & 19 Bruton Place gave us the opportunity to demonstrate the value in a one team approach to refurbishment and fit out. By developing one programme that carries through from construction to finishes, we have an eye on how to deliver the final, and finer details from the very beginning. This enables us to develop a programme with an integrated fit out to achieve the level of quality expected and within the most efficient process.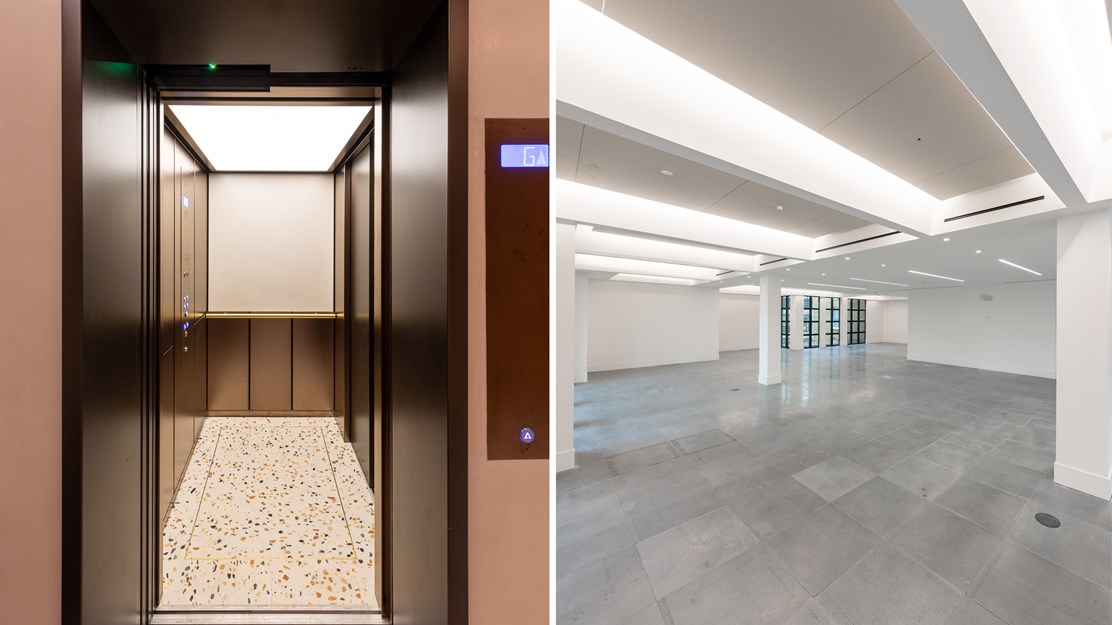 New lifts and Cat A floor at 14-16 Bruton Place
Key to the success of both projects was a thorough and detailed response to the structural constraints and a logistics programme that was seamless in its planning and design. The constraints across 14-16 & 19 were twofold; the mews is an active area lined with high-end and vibrant retail, hospitality, residential and office development and we needed to keep disruption to a minimum; the integrity of materials had to be maintained at all times, so we had to overcome the internal obstacles presented by the two sites.
The whole team approach was one of no compromise in respect to material quality and we share the same vision as BEAM to deliver the very best space for occupiers in Mayfair.  While BEAM may be our client, it is the occupier who will judge the success of the internal spaces. An understanding of their expectations via insight from BEAM kept us all focussed and working to one vision.
Questions around how we would physically transport materials into the building prompted hours of deliberation with the design team. When working with high quality materials such as Kvadrat Panels, Terrazzo and Fluted Oak joinery, the priority consideration is to create as much seamlessness as possible within the finishes and this requires creativity from the design team and the use of the buildings themselves.
For number 19, we navigated the narrow staircase by bringing the programme forward and using the timeframes to replace the sash windows to install a bespoke set of entrance doors, hoisting them through the frames of the front façade and avoiding the structures that would have otherwise made the style and size impossible.
The Terrazzo across the bathrooms in number 19 were also designed to be one seamless finish and we worked tirelessly with the design team to achieve this, developing renditions, samples and drawings to ensure minimal joints.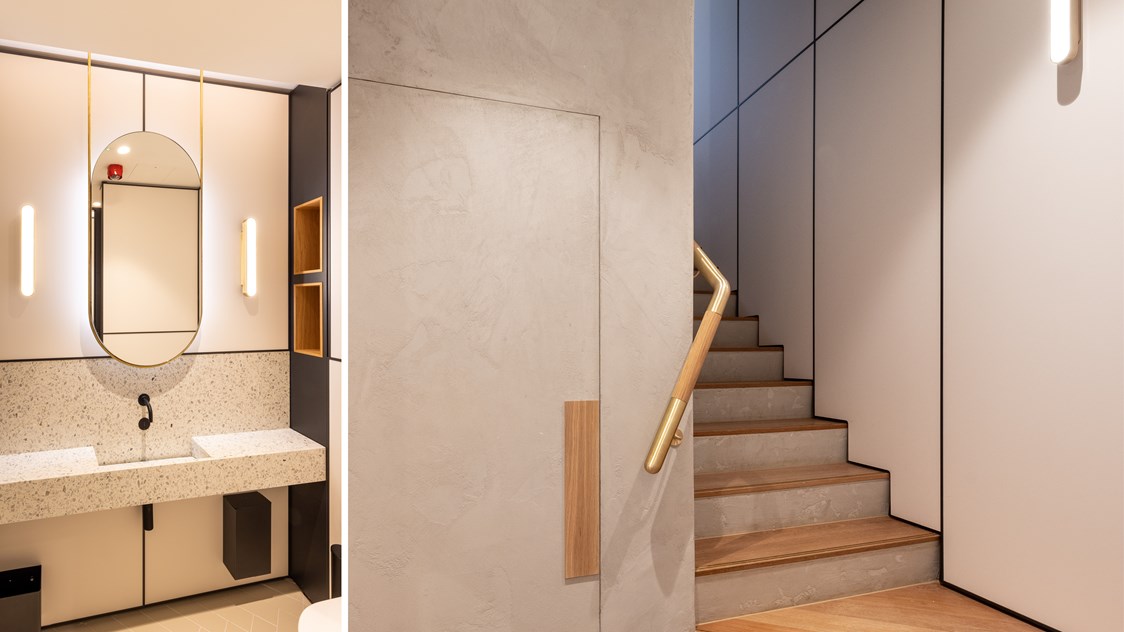 New staircase and bathrooms at 19 Bruton Place
While the two buildings are distinctly individual, they both share single points of entry and exit; both have occupied tenants on the ground floor that encourages footfall next to the only means of site entrance. 14-16 & 19 Bruton Place are landlocked on three sides and have a single access to all floors. They are extremely complex and logistically challenging.
14-16 had no vertical transport throughout much of the programme so the planning for the raised flooring and services to come in through the staircase was a well-oiled machine; if one delivery is missed, the whole programme is out of synch. It was not possible to have two deliveries on the same day so for the whole duration the teams on 14-16 and 19 were talking daily and taking into consideration both programmes while adhering to their own.
It is a huge compliment for a client to say we pushed them as much as they pushed us. The original parquet flooring throughout number 19 is part of the building's reuse story. We insisted on repeating the sanding and sealing process three times before we felt we had achieved the quality we could. It is our responsibility to help our client achieve their ambitions and where we can rework the programme to accommodate this, we do.
The transformation across both 14-16 & 19 Bruton Place has been incredible. The authentic characters of both remain intact, while the enhanced spaces allow natural light to flood through to reveal the high-quality fit out of new and original features. Having an eye on exactly how this is supposed to look from the very beginning is the most effective way to achieve the end vision.